STAYING WELL
COVID-19 UPDATE
The health and safety of athletes, supporters, volunteers and staff at the ROF is our greatest priority. If you are a New Zealand domiciled ROF entrant that has travelled to countries or areas of concern and/or have developed symptoms of fever, cough, or shortness of breath seek medical advice – phone Healthline's dedicated COVID-19 number 0800 358 5453 or contact your GP before coming to the event.
International ROF entrants coming into New Zealand need to check countries or areas of concern and the up to date information for travellers arriving to New Zealand before coming to the event.
For COVID-19 health advice and information, contact the NZ Ministry of Healthline team (for free if calling from within NZ) on 0800 358 5453 or +64 9 358 5453 for international SIMS.
RISKS ASSOCIATED WITH THE RING OF FIRE
Taking part in the Ring of Fire includes taking on risks. With preparation and care these risks can be minimised so that you have a fun and safe event experience.
Some Key Hazards
HAZARD: Trips and falls on rough terrain causing injury.
COMMENT: There are some very technical sections of the course including the Cascade waterfall climb, the Wahianoa Gorge and dropping off the Tukino Road into the valley. Much of leg one and two have a very uneven running surface.
MANAGEMENT: Take care with where you place your feet and the pace at which you run. Use a good quality headlamp in the dark. If it is technical, slow down to pick your path.
HAZARD: Hypothermia from the cold.
COMMENT: Symptoms include shivering, cold fingers and toes and skin colour change.
MANAGEMENT: You need to take enough gear to star warm while running or walking and enough gear to keep you warm if you stop and can not continue. Take all of the compulsory gear and put it on BEFORE you are cold or wet or both!!!
HAZARD: Traffic collision.
COMMENT: The event uses short sections of public road. Although we do have a Traffic Management Plan in place, none of the roads are closed. Please note: there are NO competitor or supporter vehicles allowed up the Tukino Access Road from the entry point of the Desert Road.
MANAGEMENT: Treat all roads as public road. Take care, run on the shoulder, heads up and watch out for traffic. There is no access to the Tukino road for event entrants or supporters.
Supporters must also take care when driving on the roads.
Other hazards include:
• Accident/injury
• Bridges/ steps/ barriers / board walks
• Chemical sprays, poison baits, predator traps
• Cliffs/ banks
• Dehydration
• Fatigue
• Flooding
• Getting lost
• Heat stroke / Hyperthermia
• Hikers / cyclists / mountain bike shuttle buses
• Hyponatremia
• Low light conditions
• Medical problems
• Poor fitness
• Renal shutdown
• Steep slopes
• Streams
• Vegetation spikes, prickles, sharp leaf edges
• Vehicles/ public roads / competitors/ spectators hit by traffic
2020 PARTICIPATION RULES
The following rules apply to this event and will be strictly enforced.
I have read and understand the information regarding this event and understand that I participate in this event at my own risk.
I acknowledge and accept that trail running carries an inherent risk of injury, illness and in extreme cases, death.
I understand that competing in the Ring of Fire involves running and walking on an alpine mountain on wilderness trails and up and down steep terrain. The hazards may include but are not limited to; actions of spectators, bridges, board walks, banks, cliffs, fatigue, flooding, getting lost, general public, heat stroke, heat exhaustion, hypothermia, ice, low light, loose rocks, other competitors, motor vehicle traffic, roots, rocks, soft sand, steep banks adjacent to the track, stream crossings, snow, slippery surfaces, vehicles, vegetation, weather conditions including storms.
I hereby attest and verify that I am physically fit and have trained sufficiently for this event.
I have provided correct and accurate information about myself and my emergency contact, including contact phone numbers.
I acknowledge that although the Ring of Fire has medical personnel and resources at various points along the course, the inaccessibility of much of the trail will make it difficult or impossible for medical assistance to reach me immediately and extractions may take a period of time.
I agree to allow event medical staff to treat me as they see fit.
I hereby allow the use of my name and image to be used in the media and for marketing purposes for this event only.
I will stay on the marked course at all times, unless instructed by event staff.
I will obey all course marking.
I will wear or take the compulsory safety equipment required by the event – refer separate list in document titled – 'Ring of Fire compulsory equipment for participants'.
My support crew and I will obey the instructions given by event staff.
I accept that I may be pulled from the course at any time with the discretion of event staff, primarily for, but not limited to, safety reasons.
I will complete the entire course under my own power.
I will not light any fires.
I will be respectful of other National Park users such as recreational walkers.
I will not litter.
Dogs are not allowed on the course.
I agree that all of the equipment I bring to the event will be checked, cleaned and dried (to avoid spreading pests).
Smoking is not permitted at any of the checkpoints or along the trail by participants, staff, spectators or supporters.
I will use the toilets on the course, or if this is not possible, then I will toilet into a compostable bag (supplied  by the event) and take this waste to the nearest portaloo / waste bin.
Any participant who is unable to finish the event must inform the nearest event staff of their decision to withdraw and make sure their race number is recorded, or text the Event Safety phone numbers (see race number for phone numbers).
Participants who leave the course/event without informing staff of their race number will be classified as "missing". The participant will be contacted on their mobile phone and their emergency contact will be called. If there is no response from either party or the emergency contact does not know the status of the runner, a search will be activated. Any search related costs will be charged to the participant.
I will be drug and alcohol free for this event.  Race management reserves the right to drug test any participant competing in this event – from the time of registration to after the completion of the event. Agreement to submit to drug testing is a condition of entry.
I will not take any form of NSAID drugs such as Ibuprofen as part of this event.
I understand that the event transfer and refund policies are, as stated on the website at the time I entered, and are not negotiable.
I hereby acknowledge this waiver, release and indemnity discharge all persons, corporations, associations and bodies involved or otherwise engaged in promoting or staging the event and their servants, agents, representatives, officers and employees. This includes but is not limited to the various committees, members, and employees of all independent contracted suppliers to the event, local councils, cities and districts and their respective officers, directors, employees, independent contractors, representatives, agents, volunteers, event organisers and sponsors whether or not the loss, injury or damage is attributed to the act or neglect of any or more of them.
I also understand that my contact details will be added to the events database, and that I will receive emails directly from the Ring of Fire.  I understand that I can unsubscribe from this database at any time. The event will not, under any circumstances, distribute at any time, the contact details of those on the event database.
Violations of any rules may be grounds for disqualification from the Ring of Fire for one or more years, or other sanctions such as time penalties, fines, and/or disqualification from awards. In the case of a very serious breach of these rules, then the participant may be banned from all events run by The Event Collective, Victory Events or Element Events.
COMPULSORY EQUIPMENT FOR ALL PARTICIPANTS
Item
Requirement
What Is not acceptable
Shoes
Running or walking shoes – specific trail shoes are highly recommended.  You will need maximum traction!
Jandals Sandals

Bare Feet

Jacket
Jacket that is waterproof, windproof, breathable, seam sealed with a hood that will keep you warm and dry for prolonged periods in an alpine environment. (Recommendation is that the jacket is rated to at least 5,000mm)
Shower Proof

Garbage Bag

Light Weight Wind Breaker

PVC

Thermal BASE Layer Long

Sleeve Top x 2

Two Thermal base layer long sleeve top these can be polypropylene (polypro), merino or a combination of these.
Tee Shirt

Singlet

Non Thermal Skinns/Compression

Thermal BASE Layer Long

Leg Bottom

Thermal base layer long legs bottom, these can be polypropylene (polypro), merino or a combination of these.
Lycra Shorts

Non Thermal

Skinns/Compression

Thermal Beanie
Thermal beanie – fleece, polypropylene or wool
Running Cap

Sweat Band

Straw Hat

Buff

Thermal Gloves
Thermal gloves
Finger Less Gloves

Cycling Gloves

Survival Bag
Survival bag – not a survival blanket. The requirements of the bag are that you can fit inside it, it is waterproof and windproof. These should be a high quality bag that will retail for about $25-$40
Survival Blanket

Tarpaulin

First Aid Kit
First Aid including 1-2 metres of bandage, strapping tape and plasters.
The one out of your car
Mobile Phone
Charged and in a waterproof bag or vessel e.g dry bag or plastic zip lock bag.  Note that Waterproof phones do not need to be in a dry bag.
Not charged, no water protection
Head Lamp
Headlamp – fully charged.  Plus a second back up torch (can be headlamp or handheld torch) that is not your mobile phone.  Should be bright enough so you can navigate in fog and rain at night.

For your primary torch, you must have a spare Battery or power source for rechargeable lamps.  You do not need a spare battery for your secondary light.

Low Battery

No Spare Battery

Normal torch

Whistle
No whistle
This compulsory equipment will be checked:
the day prior to the event at registration
on race day at the various start lines. (If the entrant does not have the correct safety gear, then they will not be permitted to start the race).
at random checkpoints around the course.
Note that is may be sensible to carry more layers of clothing than the compulsory list, so a backpack capable of carrying all of your equipment will be essential. We recommend using a drybag or sealed ziplock bag to make sure your stuff stays dry inside your pack.
We recommend considering using hiking poles.  Black Diamond make some excellent light weight and strong poles.
Example of survival bags that meet our requirements: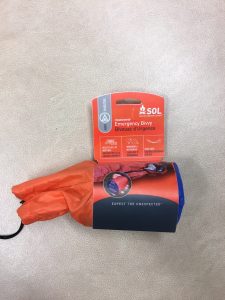 The reason the compulsory gear is required is because the event takes place in an Alpine environment which can pose extremely harsh environmental conditions (wind, rain or temperature.) There is also very limited access to the course i.e. access is by foot or helicopter. If you get injured (and are unable to move) it may take event staff two or more hours to reach you. If we cannot use a rescue helicopter to evacuate you (i.e. through poor visibility, night time) then you may be on the mountain for a long time, either being carried out on a stretcher, in one of the huts, or a tent with a medic.
We understand that many seam sealed jackets do not state their waterproofing mm rating, therefore we will not be checking for this at the event. However we will check for that the jacket is seam sealed and has a hood.
EMERGENCY PLANS
Mt Ruapehu is an active volcano. Although extremely unlikely, we are prepared for the risk of a fire, lahar, eruption or landslide.
In most cases your best response is to move away from any danger.
Always follow all instructions from staff who may hold you at certain huts or locations.
What to do if you are injured / ill or just can not continue to run/walk:
1. Stay calm.
2. Contact one of the two phone numbers on your race bib. Or;
3. Stop the next runner going past you and ask for help.
4. Apply first aid to yourself.
5. Put on all of your clothing.
6. If you are in an exposed position, but can still walk, try to get out of the wind. Often you will only have to move 5-10 metres to be in a more sheltered spot, but make sure you are not hidden from the track so that staff can not find you.
7. Get into your survival bag.
8. Wait for assistance.
We have Field Medics plus other Marshals on course, many of whom have alpine tents and sleeping bags. These medics will get to you as soon as they can.
Once the medic has assessed you, you will either be assisted out by the medics to a road end or a hut. A rescue helicopter MAY be able to extract you. But if the helicopter cannot fly/land, then there is also a chance that you may spend an extended period on the mountain. Remember that at this point – you will have a medic with you and will be in a sleeping bag and in a tent.
What to do if you are lost.

• Stop.
• Think, can you retrace your steps to the last known track marker? If yes then do so.
• If you cannot retrace your steps then stay put.
• Blow your whistle.
• Follow steps 1-8 above (excluding steps 3-4)