Entry fees, categories and much more…
This is the page to read if you are considering entering, or have entered, and want to know all the finer details about the Ruapehu Ring of Fire.  Yes it is quite long, but there is quite a bit that you need to know about this epic race.
All of this info applies to the 2018 event but will be updated prior to entries opening for 2019.
Entries will open Wednesday 15 August at 8:00pm.
---
2018 ENTRY OPTIONS AND FEES
Super Early bird
Early bird
Standard
Applies to
SOLD OUT
Quota of 150 entries total across all distances
After Super early birds sold and until Monday 12 March 2018
Tuesday 13 March 2018 to 5pm Monday 26 March 2018
72km Solo
$      330.00
$      370.00
$      420.00
50km Solo
$      200.00
$      240.00
$      290.00
72km Teams relay
$      390.00
$      450.00
$      510.00
Due to the conditions of our DOC concession, places are limited for the event so please book early to avoid disappointment.  We will advise when nearly full.
Relay price is per team (not per person).   Teams may consist of 2-3 people.  You will need a team captain for event liaison and one person will pay for the team during the entry process.
2018 SCHEDULE and REGISTRATION
Friday 6 April 2018
11.00am
Official Event Welcome Powhiri & morning tea at Otukou Marae, Otukou Road off SH 47. Directions to Otukou Marae click here Otukou Marae Directions. Note: this function is now closed for bookings.
1:00pm to 8:00pm
Event registration & compulsory gear check in Tongariro Room, Chateau Tongariro.
At the registration, we will check all of your entry details, check that you have the compulsory gear required and issue you with a race number and transponder for timing purposes. Note: all individual 72k & 50k ultra runners need to register and show their compulsory gear and ID in person. Relay teams have the option of registering with one team member showing the

compulsory gear & ID

for each team member. 
There will be TWO compulsory to attend race briefings the day before the event in the Chateau Ballroom. The times for these are 4pm and 8pm. Choose ONE to attend. The briefing will go for approximately 30-40mins maximum. Only one team member from relay teams needs to attend briefing. You must label your dropbags (we provide individualised stickers at registration) and leave your dropbags with us at registration by 8pm on Friday.
Saturday 7 April 2018
3:55am to 4.00am
72km Ultra and relay start from the Chateau (in self seeded waves)
4:05am
50km Ultra Bus leaves Chateau for 50km Ultra Start, stopping at National Park and Ohakune
Buy your Bus Ticket HERE
6:00am
50km Ultra start from the Turoa Ski field.
11:00am
Cut off time for 72km Ultra and Relay starting leg 2 at Ohakune Road.
3:00pm
Cut off time for 50km Ultra starting leg 3 at Tukino.
6:00pm
Cut off time for 72km Ultra and Relay starting leg 3 at Tukino.
Midnight
Cut off to finish the event.
Sunday 8 April 2018
| | |
| --- | --- |
| 8:00am to 10:45am | Brunch at the Chateau.  (user pays) |
| 9:30am to 10:15am | Adventurist Recovery Yoga (Free of Charge) Front lawn or Tongariro Room if wet. |
| 11:00am to 11:45am | Awards ceremony in Chateau Ballroom. |
Special Ring of Fire Sunday Night Hangi Experience
Ring of Fireans experience an authentic Maori hangi on Sunday evening at Otukou Marae (the venue for the Powhiri) at 6pm. This will be a traditional puia hangi cooked in the nearby Tokaanu cooking hotpools and brought especially to the Marae $30.00 per person we need to add this on the merch system and provide a booking link. Online booking deadline needs to be 8pm Friday 6th April for the hangi.
Purchase your ticket HERE
ACCOMMODATION
The best possible Ring of Fire experience is to enter the race and stay at the historic and luxurious Chateau Tongariro which is the heart of the event village and start/finish line for the Ultra distance.
The Chateau Tongariro has reserved rooms at special rates for Ring of Fire Competitors. This is now SOLD OUT.
Whatever your needs, taste or budget, Ruapehu has accommodation to suit – spread among its towns and villages and sprinkled throughout the beautiful countryside surrounding them.
Check out HERE for more accommodation options.
AID STATIONS
There will be three aid stations on the course containing medical support, food, water and electrolyte drinks.  The distances between Aid Stations is approximately 24km.
Ohakune Mountain Road located at the MUAC hut
Tukino Road
Chateau Finish
The Ohakune Mountain Road Aid Station will include; Water, Tailwind, snakes lollies, chips and sandwiches.
The Tukino Road will have all of this as well as hot soup and coke.
The finish line will have water and Tailwind
CUPLESS
We are not providing cups at the Aid Stations because we are trying to minimise the waste created from the event. Please bring your own cup or cups. Note that we will have water, Tailwind, coke and soup at the 2nd Aid Station at Tukino so a cup will be important. There are some very good silicone cups for sale in NZ.
Water and event personnel will also be available in the 5 huts that are along the event course.  These huts include;
Leg 1 – Whakapapaiti and Mangaturuturu
Leg 2 – Mangaehuehu and Rangipo
Leg 3 – Waihohonu
CUT OFF TIMES
72km Ultra and Relay
| | | |
| --- | --- | --- |
| Start | Chateau | 4:00am |
| Start of leg 2 | Ohakune Mountain Road | 11:00am |
| Start of leg 3 | Tukino Road | 6:00pm |
| Finish line | Chateau | Midnight |
50 km Ultra
| | | |
| --- | --- | --- |
| Start | Ohakune Mountain Road | 6:00am |
| Start of leg 3 | Tukino Road | 3:00pm |
| Finish | Chateau | Midnight |
The cut off time to finish is Midnight for all distances.  Athletes still on the course at Midnight will be escorted to the closest point of removal from the course.  Note that this may mean reversing off the course.
Notes on the pace required
72km Ultra and Relay: You have 20 hours to complete the 72 km alpine trail, much of which is quite technical. You need to average 16.24min per km in order to beat the final cut off, which means most solo entrants will need to run the easier sections.
50km Ultra: You have 18 hours to complete the 50km.  You need to average 21.24min per km to beat the final cut off.  Competent trail walkers could walk the entire 50km event and we encourage walkers to enter.
CATEGORIES
Classes for 72km Ultra and 50km Ultra

Junior Men 18-21 years
Junior Women 18-21 years
Open Men
Open Women
Masters Men 40-49
Masters Women 40-49
Masters Men 50-59
Masters Women 50-59
Masters Men 60 plus
Masters Women 60 plus
Classes for 72km relay
Open Men
Open Women
Masters Men 40 plus
Masters Women 40 plus
Mixed team, any age, must include one female
Corporate team, any age, either gender. All members must work for the same organisation.
Minimum age is 16 years on the day of the event.
CHECK, CLEAN DRY
'Protect our Playground'
New Zealand's lakes, rivers and streams are under threat from freshwater pests.  Pests like didymo can be sneaky little critters.  A wet shoe infected can spread pests into a river or stream.  These pests can clog out waterways, smothering fish, insect and plant life out of them and making them ugly and difficult for us to enjoy.   Pests can be microscopic at an early stage so you can't be sure that a waterway hasn't got a pest in it.   Almost all the freshwater pests there are in New Zealand are spread by people so what we do counts.
Please ensure that all of the gear you bring, especially your shoes, are clean and dry before you come to the event.  All of your equipment will be checked before you register. You must bring your race day shoes to registration for check, clean, dry procedure.
DROP BAGS
We will have a drop bag service which will take your drop bags to the two Aid Stations at Ohakune Mountain Rd and Tukino Rd, and return them to the Finish at the Chateau Tongariro at the completion of the event by 8:00pm.  Please bring your drop bags to registration on Friday night by 8pm.  Make sure the bags are sealed, compact and have your name on them.  We will also provide ID stickers. You will ned your event number to pick up your drop bags at the finish line on Saturday.
FOOD, BEVERAGES, FUEL.
The Chateau Tongariro located at the Start line has a top quality Café and restaurant and should meet all of your culinary needs. For event weekend The Chateau Tongariro have a number of fantastic eating options  available.
Friday 6th April
Ruapehu Room 6.00pm -Late  -Kitchen closing around 9.30pm (reservations are required)
Pihanga café 7.30am –Late (reservations are required)
Tussock Tavern
Saturday 7th April
2:00am – 3:00am Athlete Breakfast
2:00pm – 9:00pm BBQ on the outside lawn
6:00pm – 2:00am Market Buffet in the Ruapehu Room
Sunday 8th April
8:00am – 10:45am Brunch
When heading to the end of the leg one located on the Ohakune Mountain Road, you will pass through National Park Village and Ohakune which have many cafes, bars and restaurants that sell a wide range of food.
The end of leg 2 is at the Tukino Road in the middle of the Desert and does not have any services available, however you will pass though Waiouru which does have basic food available.
Fuel stations are available at Turangi, National Park Village, Ohakune and Waiouru.
MEDICAL
MEDICAL ADVICE FROM EVENT MEDICAL TEAM
Do not start this race if you are unwell or injured.  You place yourself and others at risk.
Do not use Non-Steroidal Anti Inflammatory Drugs (NSAIDs) (Ibuprofen, nurofen, diclofenac, voltaren, naproxen) – sure to cause trouble!
Drink to thirst. Drink varied fluids, take on food during the race, have a varied intake.
Be prepared for the conditions. Hot, cold, dry or wet – have a plan for a range of conditions.
Look out for each other. If you are concerned about any runner, please notify the medical team.
The race doesn't end at the finish line. Pack warm clothes for basking in your success at the finish.
Do not drive home if you are fatigued.  Have someone drive you or stay the night at the event.
MERCHANDISE
There is some very sharp looking casual and performance clothing available to buy from the SHOP page of this website.
PARTICIPATION RULES
The following rules apply to this event and will be strictly enforced.
I have read and understand the information regarding this event and understand that I participate in this event at my own risk.
I acknowledge and accept that trail running carries an inherent risk of injury, illness and in extreme cases, death.
I hereby attest and verify that I am physically fit and have trained sufficiently for this event.
I will be drug and alcohol free for this event.
I acknowledge that although the Ring of Fire has medical personnel and resources at various points along the course, the inaccessibility of much of the trail will make it difficult or impossible for medical assistance to reach me immediately and extractions may take a period of time.
I agree to allow event medical staff to treat me as they see fit.
I hereby allow the use of my name and image to be used in the media and for marketing purposes.
I will stay on the marked course at all times, unless instructed be event staff.
I will obey all course marking.
I will wear or take the compulsory safety equipment required by the event – refer separate list – compulsory equipment for participants.
My support crew and I will obey the instructions given by event staff.
I accept that I may be pulled from the course at any time with the discretion of event staff, primarily for, but not limited to, safety reasons.
I will complete the entire course under my own power.
I will not light any fires.
I will be respectful of other National Park users such as recreational walkers.
I will not litter.
Smoking is not permitted at any of the checkpoints or along the trail by participants, staff, spectators or supporters.
Any participant who is unable to finish the event must inform the nearest event staff of their decision to withdraw and make sure their race number is recorded, or text the Event Safety phone numbers (see race number for phone numbers).
Participants who leave the course/event without informing staff of their race number will be classified as "missing". The participant will be contacted on their mobile phone and their emergency contact will be called. If there is no response from either party or the emergency contact does not know the status of the runner, a search will be activated. Any search related costs will be charged to the participant.
Anti-Doping Policy and Statement: Race management reserves the right to drug test any participant competing in this event – from the time of registration to after the completion of the event. Agreement to submit to drug testing is a condition of entry.
Do not take any form of NSAID drugs such as Ibuprofen as part of this event.
COMPULSORY EQUIPMENT FOR ALL PARTICIPANTS
The compulsory equipment that all participants must wear or carry are;
Running or walking shoes – specific trail shoes are essential and highly recommended.  You will need maximum traction!
Jacket that is waterproof, windproof, breathable, seam sealed with a hood that will keep you warm and dry for prolonged periods in an alpine environment. (Recommendation is that the jacket is rated to at least 5,000mm)
Thermal base layer long sleeve top x 2 these can be polypropylene (polypro), merino or a combination of these
Thermal base layer long legs bottom
Thermal beanie
Thermal gloves
Survival bag – not a survival blanket. The requirements of the bag are that you can fit inside it, it is waterproof and windproof. These can be bought from most outdoor stores for $5-$25 – see images below.
First Aid including 2 metres of bandage, strapping tape and plasters.
Mobile Phone – charged in a waterproof container
Headlamp – fully charged.  We

recommend

taking spare batteries and a second back up light that is not your mobile phone.
Whistle
This compulsory equipment will be checked;
the day prior to the event at registration
on race day at the various start lines. (If the entrant does not have the correct safety gear, then they will not be permitted to start the race).
at random checkpoints around the course.
Note that is may be sensible to carry more layers of clothing than the compulsory list, so a backpack capable of carrying all of your equipment will be essential. We recommend using a sealed ziplock bag to make sure your stuff stays dry inside your pack.
We recommend considering using hiking poles.  Black Diamond make some excellent light weight and strong poles.
Examples of survival bags that meet our requirements: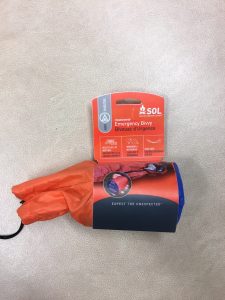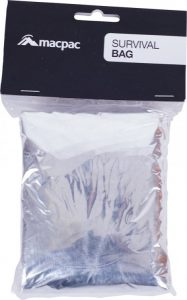 The reason the compulsory gear is required is because the event takes place in an Alpine environment which can be extremely harsh in terms of wind, rain or temperature. There is also very limited access to the course i.e access is by foot or helicopter. If you get injured (and are unable to move) it may take event staff one-two hours to reach you. If we cannot use a rescue helicopter to evacuate you (ie through poor visibility, night time) then you may be on the mountain for a long time, either being carried out on a stretcher or in one of the huts or a tent with a medic.
We understand that many jackets do not state their mm rating, therefore we will not be checking for this at the event. However we will check for the jacket being seam sealed and having a hood.
PRIZES
72km Ultra, 50km Ultra  first male and female to receive a trophy.
72km relay winning male, female and mixed team to receive a trophy.
72km Solo top three overall male and female to receive a trophy.
50km top three overall male and female to receive a trophy.
All finishers to receive a memento (i.e. a medal or similar)
All finishers can download an on line certificate.
There will be product prizes given out before the event to early entrants.
QUALIFICATION / PREPARATION / MINIMUM AGE
In order to compete in the 72km or 50km Solo you must be 18 years or older on the day of the event.
In order to compete in the 72km relay you must be 16 years or older on the day of the event.
It is vital that you prepare well for this race.  Preparation needs to include the training required to be fit enough to complete the distance you have chosen.  Ultra distance running does place stress on the body so if you have any doubts, you should consult your health professional.  You also need to have all of the compulsory gear required by the event.  Please refer to the compulsory gear list.
And don't forget to bring your 'can do attitude' – that will get you a long way!
REFUND/TRANSFER POLICY
If you decide to withdraw the following applies;
Up to 31 July 2017 – you will receive a full refund minus $50
1 August to 31 December – you will receive a refund of 50%
1 January to 31 January – you will receive a refund of 30%
1 February onwards – No refunds are given.
Transfers of entries to other athletes will be accepted for the Relay only.
There will be no entry deferments to the following year or to other events.
You can change your distance option at any time, including the day before the event. If increasing the distance, then you must pay the difference in fees plus a $50 fee.  No partial refunds will be provided if you reduce your distance option.
There are no refunds on the Squadrun coaching trial.
RESERVE COURSE AND DAY
If the environmental conditions are not suitable to running the event on the race day on the Round the Mountain track, (e.g. high winds, volcanic activity, floods, storms), the organisers reserve the right to implement one of the following options;
Run the event on Saturday, but use a reserve course
Run the event on Sunday on the original course (Round the mountain track)
Run the event on Sunday on a reserve course
Cancel the event *1
Note that the reserve course may be made up of 3-6 laps of a 12-24km course or something similar.
*1 The Event Collective Ltd will make every possible effort to ensure this event takes place. However certain circumstances may arise which means the event will have to be cancelled. These circumstances include, without limitation; fires, flood, storms, volcanic activity, explosion, acts of God, war, governmental actions or non-performance by third parties. In the rare case that the event is cancelled, then refunds will be provided to event entrants minus an administration fee.
SPECIAL EVENTS
Friday 6 April 11:00am: Official Ring of Fire Powhiri & Morning Tea, Otukou Marae – all welcome. Tickets can be purchased through the shop at a cost of $7.50.
Welcome home (for some competitors!) & After party for others in the Chateau Tongariro Ballroom from 7pm Saturday night 7th Theme: Glam Runners – suits/formal/cocktail worn with your favourite clean running shoes or sneakers. We will have live music, DJ, market food stalls, bars, event MC. No rsvp required. We will welcome home our finishers after the dark onto the dancefloor in the Chateau Ballroom up until midnight and the keep partying!
The Adventurist Recovery Yoga Session at 9.30am on Sunday morning on the Chateau lawn. Rise and shine after breakfast giving something back to your body that you've hammered the day before
Official awards ceremony in the Chateau ballroom commencing at 11am on Sunday morning
Authentic Maori Hangi
Ring of Fireans experience an authentic Maori hangi on Sunday evening at Otukou Marae (the venue for the Powhiri) at 6pm. This will be a traditional puia hangi cooked in the nearby Tokaanu cooking hotpools and brought especially to the Marae $30.00 per person. Online booking deadline needs to be 8pm Friday 6th April for the hangi. To book please click HERE
Sunday afternoon Tongariro Cultural Tour for Ringoffireans with local guides Tamati & Te Maari from Nga Ara Tupuna Tours
Tamati and Te Maari will transport you to ancient times of awe and intrigue, as you visit sites of cultural and historical significance to the Ngati Hikairo people whose lives to this day, remain intrinsically entwined with the spiritual and physical elements of their mountain environment where you have participated in the event the day prior.
Hear mountain stories of love and conflict; stories of epic ancestral journeys; the story of the last colonial battle with reknown rebel leader Te Kooti; the story of the iconic haka " Ka Mate! Ka Mate! " made famous by the New Zealand All Blacks. Learn about the plants and their traditional uses and listen to the birdsong of Tane's children.
The tour will finish at Otukou Marae where, after hearing explanations of the marae protocol and etiquette, you will enjoy a delicious traditional puia hangi dinner and a delightful performance by the local children.
We promise an authentic cultural experience that will uplift your spirit and ignite your senses.
$170.00 per person ( minimum 10 people/ maximum 30 ). Pick-up from the Chateau, Whakapapa: 2.30pm Sunday 8 April & return after dinner ( transport and dinner are included in the price ) Bookings needs to be 8pm Friday 6th April for the cultural tour & hangi dinner combo please contact Amy at amy@rof.co.nz
SUPPORTERS
We know you want to get as close to your athlete as possible. However there are only 3 access points on the course for you to see you runner – the start, end of leg one (Ohakune Mountain Road) and end of leg two (Tukino Road).  Please note that to access Tukino Road, you will need to get a 4WD shuttle from State Highway One – Desert Road/Tukino Road intersection and a small fee will apply – see Transport notes below.
There will be NO pacers in this event.
TRANSPORT
Bus ride for 50km start
Departs Saturday 7 April at 4:05am from the 72km start line at the Chateau, Whakapapa Village
4:15am pick up in National Park at the service station
4:45am pick up at the Ohakune iSite
Arrives 5:30am at the 50km start line at Turoa Ski Field, Ohakune Mountain Road
Ready for a 6:00am start time for the 50km Ultra.
Cost $20 (prebook only)
Shuttle ride to Tukino Road Aid Station 2 / Relay change over from leg 2 to leg 3
There is no private vehicle access to the Tukino Road Aid Station (end of leg 2, start of leg 3) due to the lack of room at the Changeover Point/Aid Station location. No competitor or supporter vehicles for the event are permitted to go up the Tukino Road. Those who do so will be identified & disqualified from the event. Athletes and supporters who wish to get to the Aid Station will park just off State Highway One (The Desert Road) at the junction of the Tukino Road/SH1. They will then take a 4WD shuttle up to the Aid Station and take a shuttle to return to their vehicles. The shuttle will depart every 30 minutes from the Desert Road between the hours of 8:00am and 5:30pm.
This shuttle service is free for all teams relay entrants who will present their race bib to board the shuttle.
This service will cost $10 for all other supporters. Purchase through the shop link below or at registration on Friday night (cash only).
Return bus service from Chateau to National Park and Ohakune
Departs Saturday 6pm, 8pm, 10pm and 12:15am
Cost $25 (prebook only)
Participants in the 50km Ultra can drive to the start line at the Turoa Ski Field at the top of the Ohakune Mountain Road.
TOILETING POLICY
Whilst we will have portaloos located at all the major start points, aid stations and road ends along with the composting toilets at the DOC huts on around the mountain track, we still need to ensure that there is zero human waste left in this pristine environment. So if you need to go the toilet away from actual toilets, you will need to basically poo in a bag. (based on the event you are participating in you will receive a pre-determined number of bags when you register that can be used. There will be enough to do your business and then bag it and place it in a dry bag (optional and supplied by you) that you will stow in your backpack to place in the next DOC toilet you reach on the track network. We know this might not be a fun procedure, but nor are a whole lot of land mines around the course that pollute the environment. We appreciate your consideration and cooperation.
Pooing on the course procedure – 5 step process located at hyperlink below  HERE
Here's some places to purchase dry bags affordably: BIVOUAC and TORPEDO7